Why Enterprise Engagement is Mission Critical
If senior management still needs proof that engagement is tied to financial performance. lookat the compelling performance of the Engaged Company Stock index (ECSI), a collaboration between the Enterprise Engagement Alliance and HR analytics firm McBassi & Co. at www.McBassi.com. This index has outperformed the S&P 500 each year by an average of 6.2 percentage points since its inception, racking up a compounded 19.9% rate of return greater than the S&P 500 during that same period. The ECSI portfolio is based on McBassi's Good Company Index, which each year scores about 300 of the Fortune 500 organizations on their levels of engagement across the enterprise - customers, employees and communities - based on data from about a dozen sources.
As of Sept. 30, 2015, the ECSI stood at $16,152, up 61.5% from its launch at $10,000 on Oct. 1, 2012. During the same period, the S&P 500 stood at $14,163 (including dividends), up 41.63% from its base of $10,000 when the index was established. The ECSI was created for demonstration purposes only; it is not an ETF (exchange traded fund).
The performance of the fund is interesting from various perspectives. According to a Morningstar report highlighted on Bloomberg.com, only about 20% of money managers outperformed their benchmark indices in 2014, a rate that has been consistent over the years. Even those money managers who do beat their benchmarks rarely do so consistently, according to a report earlier this year in the Washington Post.
In its first three years, the ECSI has consistently outperformed the S&P 500 benchmark each year by about 6.2% and in the latest stock slide, the ECSI fell one percentage point less. The ECSI results mirror research conducted by Alex Edmans, Professor of Finance at the University of London, who has found that companies rated as Best Places To Work have consistently outperformed stock market averages.
Organizations can achieve significant and sustainable performance gains by instituting a formal engagement strategy as they do for marketing and other initiatives.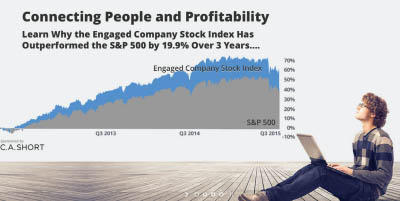 Engagement is an emerging field that offers significant financial benefits:
The 3-year-old Engaged Company Stock Index tops S&P 500 by 20%
London Business School Study confirms that companies with high levels of engagement significantly outperform the market indices.
Studies by Gallup Hay Group, Towers Perrin, Kenexa, and others demonstrate the ROI of having highly engaged customers and employees.
Published by ESM (Engagement Strategies Media) at Enterpriseengagement.org